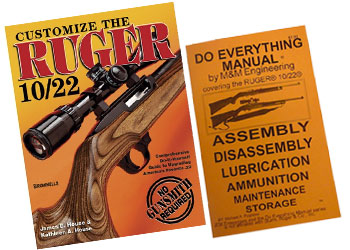 Books for the Ruger 10/22

Customize The Ruger 10/22 - KRAUSE BOOKS - The Swiss-Army knife of .22 rifles -- the Ruger 10/22 is one of the most common firearms in use today. Now, shooters can learn budget-savey tips for customizing their favorite little rifle with aftermarket add-ons. "Customize The Ruger 10/22" is the perfect guide for shooters with a do it your selves spirit because: The Ruger 10/22 design makes customizing fast and easy- within a matter of minutes shooters can have a rifle with completely diffrent look. Instructions involve basic operation of Read More...

Do Everything Manual For Ruger 10/22 - JEM Enterprises - This informative 38 page manual covers: Nomenclature, Operation and Safety, Magazine, Stock and Receiver, Trigger, Bolt, Ammunition and Storage. Written So That Anyone Can Understand Read More...